You really can have the Govenor's ear…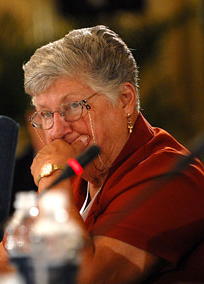 Do you have something on your mind, business related or otherwise?
Gov. Ruth Ann Minner To Host "Open Door After 4" on Tuesday, Sept. 19 in her office at the Tatnall Building in Dover.
Delaware residents have until the end of the day Thursday, Sept. 14 to schedule their one-on-one with Governor Ruth Ann Minner.
You can talk about any topic that you choose during their 5 minute session. Participants just need to name their topic when scheduling their appointment. For security reasons, those who receive an appointment will need to provide the name, address, telephone number, social security number and date of birth of everyone who will attend the meeting with the Governor.
Slots are available for the session from 4 to 6 p.m. The slots are expected to fill up quickly and will be filled on a first-come, first-served basis. To set up an appointment, please call Blaine Breeding at (302) 577-8494.