Delaware Business Ledger – February 2008 Edition
The February 2008 Edition of the Delaware Business Ledger is now available online.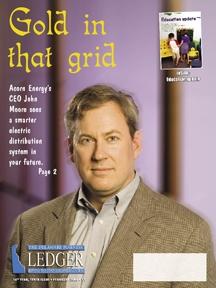 Check out some of the news stories covered in this latest edition:
• Acorn banks on smart grid
Acorn Energy CEO John Moore sees as a lucrative niche in the current energy environment.

• Businesses face more rigorous audit standards
Year-end financial statement audits are going to require more time and effort from now on – for both management of privately owned companies and the accounting firms they work with to provide annual audits.

• Lewis praises Delaware's business climate.
Those attending the annual meeting of the Delaware State Chamber of Commerce came away reassured that Bank of America will maintain a major player in the Delaware economy.
The Business Ledger is published monthly. Subscriptions are available at $24.95 per year in New Castle County; $35 per year outside New Castle County. Single copy, $2. Available at many newsstands in the area. Back issues, $2.50, plus $2 shipping charge.
The Delaware Business Ledger
Suite, 206, Madeline Crossing
168 Elkton Rd.,
Newark, DE 19711
(800) 220-3311